Basement Flooding & Restoration
Basement Flooding. Any basement can flood. However, some homeowners assume that just because they do not live in a high-risk flood area or have not experienced a lot of rainfall in their area, that their basement is safe from flooding.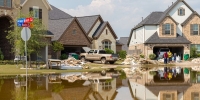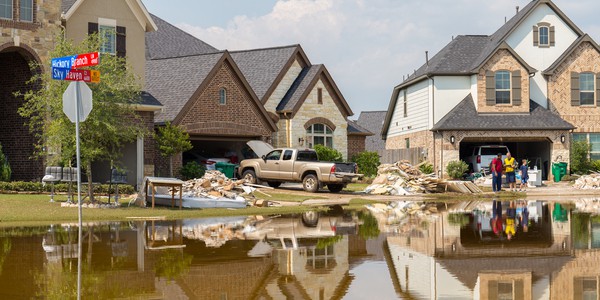 The truth is basement flooding can be caused by a variety of home issues, such as plumbing and sewage leaks. And whether its two inches or two feet, flooding can pose serious health and safety hazards for you and those in your home or business, if not addressed as soon as possible.
Whether you have stumbled into a basement this morning only to discover the carpet and padding soaking wet or a sudden pipe break or are looking for information on a "flood restoration company", we have some tips on what you should do after a basement flood.
With experience up to and including work with FEMA, our knowledge of mitigating the damages caused by flood and flood waters is expansive and among the best in Columbus. The restoration steps involved in restoring the effects of this type of water damage is completely different than a broken supply line on the main level of your home or business therefore making the decision to choose the right water damage contractor all-the-more important.
Water in the Basement: Solutions for Flooded Basements
There is no universal answer for what causes a basement to flood.
Plumbing leaks, excessive rainfall, melting snow, leaky windows or even a basement foundation leak could be contributing to the water in your basement.
Left unattended, the residual effects of water damage often contribute to mold growth and a stale, uninviting odor in your property.
Because water always run from high to low ground, water is prone to entering even the smallest cracks and flaws that lead into the lowest level of your house or business and may result in foundation issues such as mortar cracking and shifting of the basement walls.
Basement foundation leaks are often caused by excessive amounts of rain, poor yard drainage and sewer backups, seeping water into your basement from faults in the foundation.
In this case, you will need to call a basement restoration contractor to inspect your basement, find the cause of the flood and suggest a solution to sealing your foundation from future leaks.
Plumbing leaks while at times minor, can lead to a major basement water damage and are often caused by a burst or leaking pipe, basement drain backup, waste line, washing machine supply hose or water tank or heater.
Before you call a flood mitigation company, you can stop most of the damage by turning off your water via the water shut-off valve. This valve is usually located near your water meter on the inside of your home or business.

It is a good idea to locate and identify your main water valve shut-off, so you know in the event of a sudden burst pipe. If your valve is buried in the ground, you might have to call a professional plumber with specific tools to turn it off.
Basement cleanup services also have access to a high-capacity pump, vacuum and truck mounted equipment that removes a high-volume of water and that will be able to get all the water out of your basement before it sits too long and starts to soak into your drywall or carpeting.
Flood Water Removal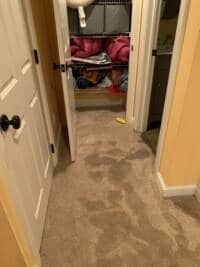 Flood waters amassing over half the height of the room involve the expertise in dealing with hydrostatic pressure of the foundation walls. Improper and unbalanced water extraction could lead to foundation collapse, a horrifying result and it's just one of the ways that in mitigation of flood water is much different and more complex than a local carpet cleaner, having no experience in flood damage could even begin to imagine.
Within minutes flood waters will begin to deteriorate your personal belongings; absorb into drywall, insulation, and cinder block that left unattended could lead lasting and damaging effects of the very foundation that your home or business was built upon.
Keep in mind that potentially dangerous molds can form in as little as twenty-four to forty-eight hours after water has affected the materials. 
Our water damage restoration teams can be on the way and at your doorstep in as little as an hour.
Flood Due to Frozen or Burst Pipes
During the winter, pipes can freeze and burst, leading to heavy water damage in your home or business. It is not just frozen pipes that can burst. If your pipes are unsecured, corroded, or suffer from water pressure issues, they can burst.
But homeowner's insurance companies have certain requirements before they will cover damage due to frozen or burst pipes. Insurers may require that you:
Keep the home at a minimum temperature.
Live in the home at the time of the flooding.
Stay up to date on basic maintenance.
If your water heater in the basement leaks and causes damage, your homeowners insurance policy should cover it – assuming the heater is not old and poorly maintained. If that is the case, your home insurance claim can be denied. Home insurance takes care of the water removal, debris cleanup, and damaged furnishings. But in most cases, a home insurance policy will not pay to replace an old water heater.
Basement Water Damage Services
Our trained professional water cleanup specialists receive the Institute of Inspection, Cleaning and Restoration Certification (IICRC) and always perform water damage restoration services in compliance with standards for professional water damage and flood damage restoration.
In addition, we possess the IICRC Master Certification in water damage services.
Our vehicles are fully equipped with state-of-the art water extraction, drying and moisture testing equipment to handle everything including:
Cleaning and deodorizing
Drying of contents and structure
Mold remediation services
Our flooded basement cleanup services are available for 24-hour emergency water removal services and open 7 days a week for your convenience.
Renewed Standards in Restoration
With the understanding that our company alone may never change the entire restoration industry.
Many of our team members and associates have decades of experience in damage cleanup and each have made a pact that in the development of iDry Columbus, that a renewed standard would be created and used as the approach on every claim; even if that standard would only apply to the damage cleanup or property claims that we were involved in.
In making the decision to not enroll in or join "preferred vendor" relationships where the relationship becomes a carrier/vendor one instead of client/vendor due to rate discounts and the reliance on the possibility of future property damage claims; we've taken back the control and returned it to the client, where it should have always been.
Utilizing the latest in technology in drying equipment, low grain refrigerant dehumidifiers, low amp draw air movers and HEPA filtered air cleaning equipment, we continually deliver successful results in the restoration of building and property damage.
Its Restoration Redefined. Guaranteed.
Property damage inspections have been and will always be free of charge estimating and at no obligation to our client.
We've chosen to include the use of thermal imaging and highly sensitive moisture detection equipment on every inspection; allowing us to offer detailed and complete information, estimates, and/or proper drying recommendations by identifying areas of concern that may have been overlooked without the use of these tools.
If you find yourself in need of a damage cleanup company that's redesigning the restoration industry in our client's favor, we would appreciate any opportunity to be of service and will always perform in a manner that we would expect for our own family, home or business.
With service available around the clock and throughout Columbus, Ohio and surrounding communities, we recognize that the need for a damage repair company doesn't always occur during normal business hours, because of this, we haven't had normal business hours in more than 20 years.
Your Local Water Restoration Contractor
Master Certified and built from concept to performance. iDry Columbus – We are available 24 hours day in response to any emergency mold growth situation you find your home or business in.
Avoiding preferred relationships with insurance carriers and foregoing discounted rates and agreements in exchange for property damage claims allows us to service only our client. Every service we have the opportunity to provide is proudly backed and guaranteed for as long as you own your home or business.
Continually raising the bar in property damage restoration. Providing service for everything from damage cleanup, flooded basement, water extraction, sewage cleanup, building cleaning & disinfection and mold removal.
iDry Columbus – Emergency Damage Response – Guaranteed Service Area
Emergency flood water extraction, and mold removal services available around the clock and around the state.
We take great pride in the fact that our services are ranked and reviewed highly throughout Columbus and surrounding communities. We've built on our relationships with home and business owners, insurance carriers, adjusters, and agents throughout the state and across the Nation to ensure that your needs are met and every damage claim is prepared, serviced, and resolved quickly.
Large loss – Residential – Commercial – Industrial – Healthcare
Water Damage Cleanup & Restoration Services Available 24/7 Nationwide