Free Mold Inspection:

in Columbus, OH | Free Estimates
Concerned about mold in your Columbus home? iDry Columbus offers complimentary mold inspections to ease your worries. Our certified specialists will assess your property thoroughly, identifying any mold concerns quickly to safeguard your indoor air quality and overall health.
Why choose our free mold inspection in Columbus?
Detect mold early to prevent extensive damage.
Ensure the well-being of your home's occupants.
Preserve and potentially enhance your property's value.
Ready for peace of mind? Schedule your no-cost mold inspection with iDry Columbus now. Each inspection includes an expert evaluation of your property and a preliminary cost estimate for any needed solutions.
Schedule Your Free Mold Inspection Today and Breathe Easier Tomorrow!
24/7 Emergency Response Services
Licensed, Insured & Dedicated
Free Estimates – Xactimate™ Technology
Mold Inspection Explained: Protect Your Columbus Home
Understanding what a mold inspection involves is the first step in safeguarding your home's health and value. Our trained inspectors at iDry Columbus conduct a thorough examination of your property, searching for signs of mold—such as unusual stains or persistent musty odors—and measuring moisture levels to pinpoint problem areas.
Why is this important?
Mold poses significant health risks, potentially triggering allergies and respiratory issues.
Unchecked mold silently degrades building materials, affecting structural integrity.
Regular inspections can maintain and even boost your property's market value.
Suspect hidden mold? Don't wait. iDry Columbus offers a no-cost mold inspection to detect potential issues early. Reach out now to secure your home's health.
Step-by-Step Breakdown of iDry Columbus's No-Cost Mold Inspection
A mold inspection from iDry Columbus includes:
In-depth Visual Survey: Our experts check common and hidden areas—basements, crawl spaces, and attics—for mold signs.
Moisture Measurement: We use advanced tools to assess moisture levels, a key factor in mold growth.
Comprehensive Report: You receive a full report outlining any mold issues found and their locations.
Expert Recommendations: If mold is detected, we'll guide you through the next steps and provide a remediation plan and free quote.
Our professional team ensures a thorough inspection to pinpoint any mold issues, helping you maintain a healthy, mold-free environment.
Benefits of a Free Mold Inspection
At iDry Columbus, we believe that property owners should have access to free mold inspections to help protect their investments and ensure the health and safety of their occupants. Here are some of the benefits of a free mold inspection:
Early Detection: A mold inspection can help identify any potential mold growth before it becomes a bigger problem.
Peace of Mind:

A mold inspection can give you peace of mind that your property is safe and healthy for your family or tenants.

Cost Savings:

Early detection of mold growth can save you money on remediation costs and prevent damage to your property.

Health Benefits:

A mold inspection can help prevent health issues for your family or tenants by identifying and removing any potential mold growth.

Better Indoor Air Quality:

A mold inspection can help improve the indoor air quality of your property, making it a healthier environment for occupants.
Providing a thorough mold inspection is absolutely vital prior to testing or trying to solve the problem. Mold spores are so small and can find a home anywhere. If the source is not identified, the problem will simply keep returning.
You may find that throughout the process, the investigator may ask extensively about water damage, dampness, and hard-to-get areas that may have suffered water damage. This simply helps determine the risk areas for mold growth.
When it comes to protecting your property and ensuring the health and safety of your family or tenants, don't hesitate to take action. A free mold inspection from iDry Columbus can help identify potential mold growth and provide you with the information and solutions you need to keep your property safe and healthy.
Contact us today to schedule your free mold inspection in Columbus, Ohio, and the surrounding areas. Our team of experts is here to help you maintain a healthy indoor environment and protect your investment. Reach out to us by phone at (614) 810-0000 or through our online contact form, and let's work together to keep your property mold-free.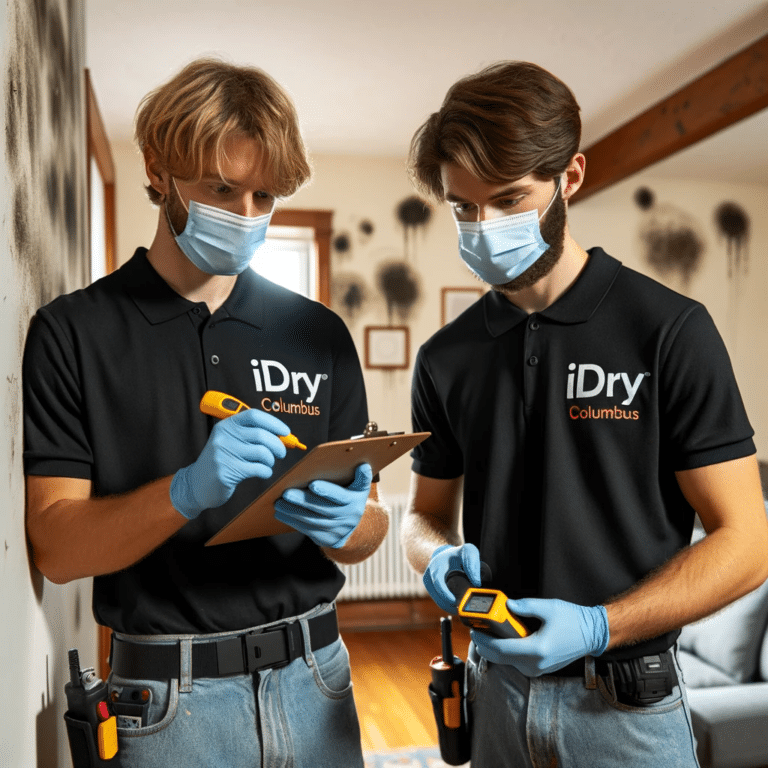 Stay Informed and Educated About Mold
At iDry Columbus, we believe that knowledge is power. To help you better understand mold and its potential impact on your property and health, we've compiled some helpful resources and articles on our website.
By staying informed and educated about mold, you can better protect your property and the health of your family or tenants. Remember, if you suspect mold growth in your Columbus, Ohio property, don't hesitate to contact iDry Columbus for a free mold inspection.