Flooded Basement Cleanup


in Columbus, Ohio: Your Essential Guide
A flooded basement can be a homeowner's worst nightmare, causing extensive damage and posing a risk to your family's health and safety. If you're dealing with a flooded basement in Columbus, Ohio, it's crucial to act quickly to prevent further damage and protect your home.
In this comprehensive guide, we'll walk you through the essential steps to flooded basement cleanup, and answer the top five frequently asked questions about water damage restoration.
Remember, when disaster strikes, iDry Columbus is your trusted partner for all your water damage restoration needs.
Get in Touch with Our Flood Cleanup Professionals Today!
24/7 Emergency Response Services
IICRC Certified Technicians
Free Estimates – Xactimate™ Technology





Understanding the Common Causes of Basement Flooding
Basement flooding can occur for a variety of reasons, including heavy rainfall, burst pipes, sewer backups, or sump pump failures. Understanding the common causes of basement flooding can help you take preventive measures and reduce the risk of damage to your home. To learn more about these causes and how to prevent them, check out this resource from Ohio State University Extension.
Why is fast response crucial for flooded basement cleanup?
Acting quickly is essential when dealing with a flooded basement. The longer water sits in your basement, the more damage it can cause to your home's structure, belongings, and even the health of your family. Prompt flooded basement cleanup helps to:
Minimize damage to your property and belongings
Prevent the growth of mold and mildew, which can cause respiratory issues and other health problems
Reduce the risk of structural damage to your home, such as warped floors and weakened walls
Lower the cost of repairs and restoration in the long run
iDry Columbus understands the importance of fast response, which is why we offer 24/7 emergency services to assist with your flooded basement cleanup needs.

Assessing the damage and determining the cause
Before diving into the water damage cleanup process, it's important to determine the cause of the flooding and assess the extent of the damage. Some common causes of basement floods include:
Heavy rainfall or melting snow
Burst pipes or plumbing leaks
Poorly sealed basement windows or foundation cracks
iDry Columbus's professional technicians will conduct a thorough inspection of your property, using specialized equipment to detect hidden moisture and identify the source of the flooding. This assessment will help us develop a customized plan for your flooded basement cleanup and ensure that we address all areas of concern.
Once the damage has been assessed, the next step in flooded basement cleanup is to remove the standing water. This process is crucial for minimizing damage and preventing mold growth. iDry Columbus uses industrial-grade pumps and vacuums to quickly and efficiently remove water from your basement.
After the water has been extracted, we'll use moisture meters and infrared cameras to ensure that no hidden pockets of water remain. This thorough approach helps prevent further damage and ensures that your basement is fully dried.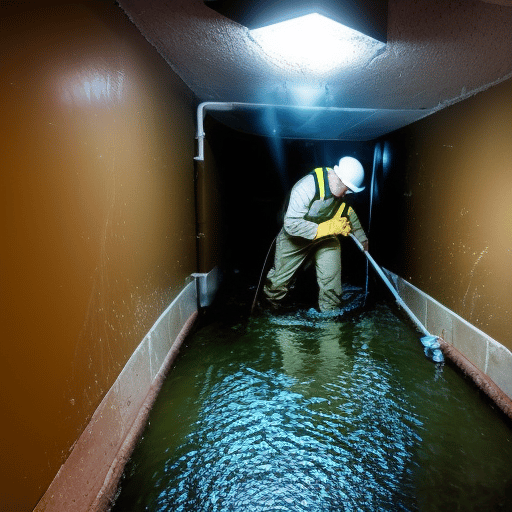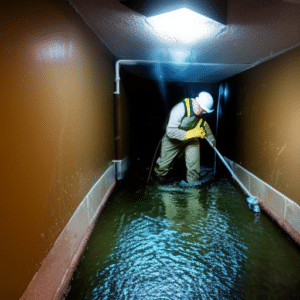 Drying and dehumidification
Drying your basement is a critical step in the flooded basement cleanup process. iDry Columbus utilizes advanced drying and dehumidification equipment to remove excess moisture from your home's structure, walls, and flooring. This process helps prevent warping, swelling, and secondary damage such as mold removal that could be caused by moisture.
Our technicians will carefully monitor the drying process, adjusting equipment as needed to ensure optimal results. This attention to detail helps protect your home and belongings from further damage and ensures a successful restoration.
After the water has been removed and your basement has been dried, it's time to clean and sanitize the affected areas. Floodwater often contains contaminants, like bacteria and viruses, which can pose health risks to your family. iDry Columbus uses EPA-approved cleaning agents to thoroughly clean and disinfect your basement, eliminating harmful contaminants and ensuring a safe environment.
We also provide professional odor removal services, using air scrubbers and fogging equipment to neutralize any lingering odors caused by the flood.
The final step in the flooded basement cleanup process is to restore your home to its pre-flood condition. Depending on the extent of the damage, this may involve minor repairs, like replacing damaged drywall and flooring, or more extensive work, such as rebuilding structural elements.
iDry Columbus is your one-stop shop for all your restoration needs. Our team of skilled professionals will work diligently to repair and restore your home, ensuring that it's safe and comfortable for you and your family. We are committed to providing top-quality workmanship and customer satisfaction with every project and water damage repair.
If you're facing a flooded basement in Columbus, Ohio, it's important to act fast and find local experts to help with the cleanup and restoration process. iDry Columbus is a trusted company in the area, specializing in water damage restoration and flooded basement cleanup. Our team of certified professionals is available 24/7 to help you address water damage issues and restore your property to its pre-damage condition.
Finding the Best Flooded Basement Cleanup Companies in Columbus, Ohio
If your home or business has experienced water damage, it's essential to find a reliable and experienced local company to help with the cleanup and restoration process. iDry Columbus is a trusted water damage restoration service provider in Columbus, Ohio, and the surrounding cities. We offer comprehensive solutions for water damage, flooded basements, and mold remediation. To learn more about our services and why we are the top choice for many Columbus residents, check out our customer reviews on Google and Yelp.
Flooded Basement Cleanup in Columbus, Ohio: Resources and Tips
A flooded basement can be a daunting issue for home and business owners in Columbus, Ohio. Knowing the right steps to take and who to contact can make a significant difference in mitigating damage and restoring your property. For detailed information on flood safety and preparedness, visit the National Weather Service @ https://www.weather.gov/safety/flood and Ready.gov for more information on flood safety tips! If your basement is already flooded, it is crucial to contact a professional service like iDry Columbus for expert assistance in water extraction, drying, and damage restoration.
Frequently Asked Questions
What is the average cost of flooded basement cleanup services?
The cost of flooded basement cleanup services depends on various factors, such as the extent of the damage, the type of water, and the equipment required. Our team will provide a customized estimate after assessing the damage.
How long does it take to clean up a flooded basement?
The time it takes to clean up a flooded basement varies depending on the extent of the damage. Our team works efficiently to ensure the job is done quickly and accurately. We keep our clients informed throughout the entire process.
How long does it take for mold to grow after a flood?
Mold can start growing within 24-48 hours after a flood. It's important to start the cleanup process as soon as possible to prevent the growth of mold.
Can you save carpets after a basement flood?
It's possible to save carpets after a basement flood, depending on the type of water and the extent of the damage. Our team will assess the damage and advise you on the best course of action.
How do you prevent a flooded basement?
There are various ways to prevent a flooded basement, such as installing a sump pump, ensuring proper drainage, and sealing foundation cracks. Our team can provide recommendations on how to protect your basement from future water damage.
What areas do you service?
At iDry Columbus, we offer prompt and reliable flooded basement cleanup services to clients throughout the Columbus, Ohio area, including New Albany, Gahanna, Westerville, Pickerington, Hilliard, and Dublin, as well as the neighboring areas. We understand that when it comes to water damage, time is of the essence, and our goal is to provide a safe and healthy atmosphere by removing the water from your property as soon as possible.
Contact us for a quick and complete evaluation of your property, and visit our local pages for more information.
Here are the local pages where you can find our professional flooded basement cleanup services: