At iDry Columbus, our local roots in Columbus, Ohio, run deep. With over 20 years in the community, we've dedicated ourselves to solving water damage, flooded basements, and mold issues. Our skilled team, equipped with top-notch gear, tackles each restoration project with the same care and dedication.
Being a family-run business, we feel the joy of a home restored and the relief of a business owner getting back on track. Our neighbors in Columbus trust us time and again with their needs.
Choosing iDry Columbus is not just about hiring a service; it's about partnering with a team that values the heartbeat of this city. We're here to deliver exceptional service and results to our residential and commercial neighbors—a promise from our family to yours.
Water Damage Restoration in Columbus - iDry Columbus
24/7 Emergency Services
iDry Columbus stands out in an unchanging industry, offering a level of personalized attention that you won't get from larger franchise restoration companies. Home and business owners have the right to expect top-notch customer service, expertise, and experience – all part of our commitment to ensuring your home or business is restored quickly and competently.
Our mission statement:
Do what is right in restoration.
Do what is right for our client and not just an insurance company or adjuster.
Approach every client with common courtesy.
Apply our experience to everything we do.
Be transparent in everything we do.
Treat every home and business as we would expect of ourselves.
iDry Columbus: Specialized Water Damage Cleanup and Restoration Services
When disaster strikes, iDry Columbus is your reliable partner for water damage restoration services in Columbus, Ohio, and surrounding areas. Our rapid response team is available 24/7 to help you minimize damage and restore your property as quickly as possible. Our emergency services include:
We'll be There When You Need Us, Providing
Top-Quality Water Damage Restoration Services
iDry Columbus offers comprehensive water damage restoration services for residential and commercial properties in Columbus, Ohio, and surrounding areas. Our certified experts utilize the latest technology and industry best practices to effectively restore your property to its original condition. Our water damage restoration services include:
At iDry Columbus, we stand firmly behind the superior quality of our services and the expertise of our professional team. We're dedicated to providing effective, efficient, and thorough restoration and cleanup services that not only meet but exceed your expectations. Our commitment to excellence is backed by a comprehensive satisfaction guarantee that prioritizes your peace of mind. To us, a job isn't complete until you're fully satisfied.
iDry Columbus: Your Local, Committed Water Damage
and Mold Remediation Experts
Rooted in Columbus, Ohio, iDry Columbus is dedicated to serving our local communities with excellence in water damage restoration and mold remediation services. Our team embodies a deep commitment to providing top-tier, responsive services to homeowners and businesses, while actively participating in and supporting our vibrant local communities.
iDry Columbus Water, Mold and Damage Restoration Services
At iDry Columbus, we've built our reputation on being more than just a restoration company. Serving Columbus, Ohio, and nearby communities has been a privilege. With a foundation of over two decades in the industry, we take immense pride in delivering nothing but the best for our clients.
I invite you to delve deeper into our story and stay connected through our regularly updated blog.
Wide Service Area for
Reliable Restoration
At iDry Columbus, we are dedicated to serving a broad range of locations in the Columbus region, ensuring that we can meet your restoration needs wherever you are located. Discover our guaranteed service area and let us become your trusted restoration partner. Explore our wide service area today.
Stay Updated with
Our Informative Blog
Stay informed about the latest news, useful tips, and industry insights by following our informative blog. Explore valuable resources and expand your knowledge on restoration, cleaning, and maintenance topics. Visit our blog here to stay connected and stay informed with iDry Columbus.
Contact Us for Your
Restoration Needs
Our friendly team is here to assist you with your restoration needs. Whether you want to discuss your specific requirements, schedule a free property inspection, or request a quote, we're ready to help. Get in touch with us today and experience our reliable and professional service. Contact us here to start the conversation.
Why Choose iDry Columbus - Water Damage Cleanup
When it comes to water damage restoration and property restoration services, iDry Columbus is the premier choice for homeowners and businesses in Columbus, Ohio, and the surrounding areas. Our reputation is built on the following core principles: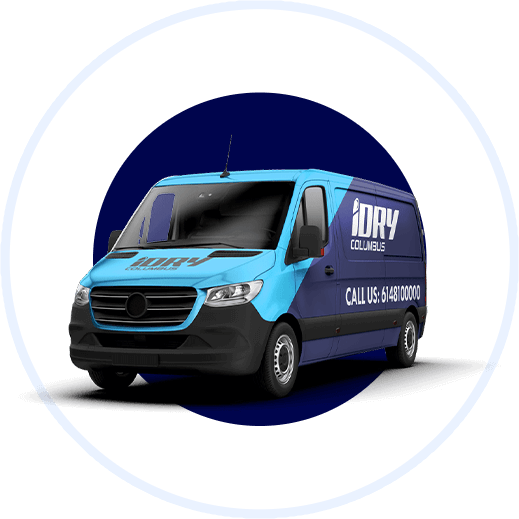 Rapid Response

We recognize the urgency of addressing water damage and other restoration needs. Our dedicated team is available 24/7 to respond promptly, mitigating further damage to your property.

Customer Satisfaction

At iDry Columbus, our client's needs are our top priority. We go above and beyond to exceed their expectations, resulting in numerous positive testimonials and long-standing relationships with our valued clients.
Experience and 
Expertise

With more than two decades in the restoration industry under our belt, our adept team brings a wealth of knowledge and proficiency to tackle restoration projects, big or small

Advanced Techniques 
and Equipment

We employ state-of-the-art technology and industry best practices to ensure the most effective and efficient restoration process for your property. Our commitment to staying abreast of the latest advancements in the field enables us to deliver exceptional results.
Local Property Damage Resources in Columbus, Ohio
Discover local resources in Columbus, Ohio, that provide valuable information and guidance on property damage. Explore links to the Columbus Public Health Department and the City of Columbus Department of Development. Access these resources to gain insights, understand insurance processes, and find assistance for property damage-related concerns in the Columbus area.
Columbus Public Health:
Columbus Public Health provides useful information on various topics, including environmental health and safety. They offer guidance on mold, water damage, and other property-related concerns. Click here to visit their website.
City of Columbus Department of Development:
The City of Columbus Department of Development provides information on building codes, permits, and property maintenance regulations. Click here to visit their website in an effort to understand the requirements and guidelines for property maintenance and restoration in Columbus.
Real Stories from Our Satisfied Customers​
At iDry Columbus, we take pride in delivering exceptional service. But don't just take our word for it. Read on to hear directly from our customers about their experiences. These testimonials reflect our commitment to excellence and our dedication to restoring homes and businesses in Columbus, Ohio, and the surrounding areas.

Septic line in the basement burst and these guys got it cleaned up the next morning. They did an efficient and thorough job of cleanup and were

...

extremely professional & polite. Highly recommend!

read more

I have to say that these are two of the absolutely most professional, kind, courteous, thorough, on-time amazing a contractor type people I have ever

...

been around. They did a wonderful job and was so kind and caring and I would recommend them to anyone. They are top notch all the way around.

read more


My experience with this company was outstanding! A professional crew came in and cleaned and repaired my water damaged bathroom efficiently and

...

effectively.

read more
We're proud to offer a complete line of restoration services
in the following cities and communities:
Thank you for taking the time to learn more about our property restoration services. At iDry Columbus, we value our clients and strive to provide exceptional service in every aspect of our work. Whether it's water damage restoration, mold remediation, or any of our other services, our experienced team is committed to delivering the best solutions tailored to your specific needs. If you have any further questions or if you require our services, please don't hesitate to contact us. We're here to help!
iDry Columbus: Your Trusted Partner in Restoration
iDry Columbus is your trusted partner for all water damage restoration and mold removal needs in Columbus, Ohio, and surrounding communities.
Over the past twenty years, we've poured our heart and soul into mastering the restoration craft. Day or night, we're here for you, offering top-tier services like emergency water damage repair, mold removal, and odor eradication. And if you're concerned about mold? We'll even do an inspection for free. Our modern tools and tried-and-true methods ensure your home or business gets back to its best shape quickly and thoroughly.
Count on iDry Columbus for exceptional results in both residential and commercial restoration projects.