Water Damage Repair in Columbus Ohio:

Fast , Comprehensive Solutions for your Property.
Experiencing water damage to your property can be overwhelming and stressful. At iDry Columbus, we understand the importance of addressing water damage quickly to prevent further destruction and costly repairs. That's why we offer fast, efficient, and comprehensive water damage repair services in Columbus, Ohio, and the surrounding areas.
Our expert team has years of experience handling all types of water damage situations, ranging from minor leaks to severe floods. We utilize state-of-the-art technology to swiftly identify the source of the problem and initiate the repair process. Our services include emergency water extraction, structural drying, dehumidification, and mold removal, ensuring your property is restored to its pre-damage condition.
Whether you're dealing with burst pipes, sewage backups, or natural disasters, iDry Columbus is equipped to tackle any water damage repair scenario. We work diligently to minimize damage and disruption to your daily routine, providing you with peace of mind during a challenging time.
Expert Water Damage Repair Contact Us for Fast and Reliable Services
24/7 Emergency Response Services
IICRC Certified Technicians
Free Estimates – Xactimate™ Technology





Water Damage Repair - Comprehensive and Professional Services
At iDry Columbus, we understand the importance of delivering thorough and professional water damage repair services to help you restore your property to its pre-damage condition. Our comprehensive services include:
Water Extraction and Removal – Our skilled team uses advanced equipment to quickly remove standing water from your property, identifying the source and employing specialized tools for extraction. With powerful pumps and vacuums, we prevent further damage by removing excess water. Learn more about our water extraction and removal process.
Structural Drying – Once the excess water is removed, we apply specialized drying techniques to eliminate the remaining moisture from your property's structure. This step helps prevent further damage and ensures a safe environment. High-quality fans and dehumidifiers are used to efficiently dry your property's structure.
Dehumidification – To expedite the drying process, we use powerful dehumidifiers to remove excess moisture from the air. Air movers are also employed to circulate air and eliminate any lingering moisture within your property.
Mold Remediation – Mold growth is a common issue after water damage. Our expert team at iDry Columbus can detect and eliminate mold growth resulting from water damage, using specialized equipment and techniques to safely remove it from your property. Find out more about our mold remediation services.
Property Restoration and Rebuilding – After completing the water damage repair process, we repair and restore any damage caused by the water, including flooring, drywall, and more. Our experienced professionals ensure that your property is restored to its pre-damage state so you can resume your daily routine.


Prioritizing Client Focus and Transparent Communication in Water Damage Repair Industry
At iDry Columbus, our team members and associates bring decades of industry experience, including expertise in franchise operations and carrier "preferred programs." We firmly believe in prioritizing the client as the primary focus in restoration. To achieve this, we commit to transparent and honest communication, attention to detail, and the health and safety of our clients and their families or employees in all property damage claims.
We acknowledge that you have a choice when selecting a restoration company, and by law, carriers must allow you to make this decision freely without any consequences. Some may suggest a "preferred vendor" or program but only circumvent the law by recommending multiple vendors or placing the decision on the Third-Party Administrator (TPA).
Pro-tip: Be aware of your rights in property damage claims. In case of disputes or disagreements, you can contact the Ohio State Department of Insurance to file a complaint or hire an independent or public adjuster to lawfully negotiate with your carrier for a fair property damage settlement.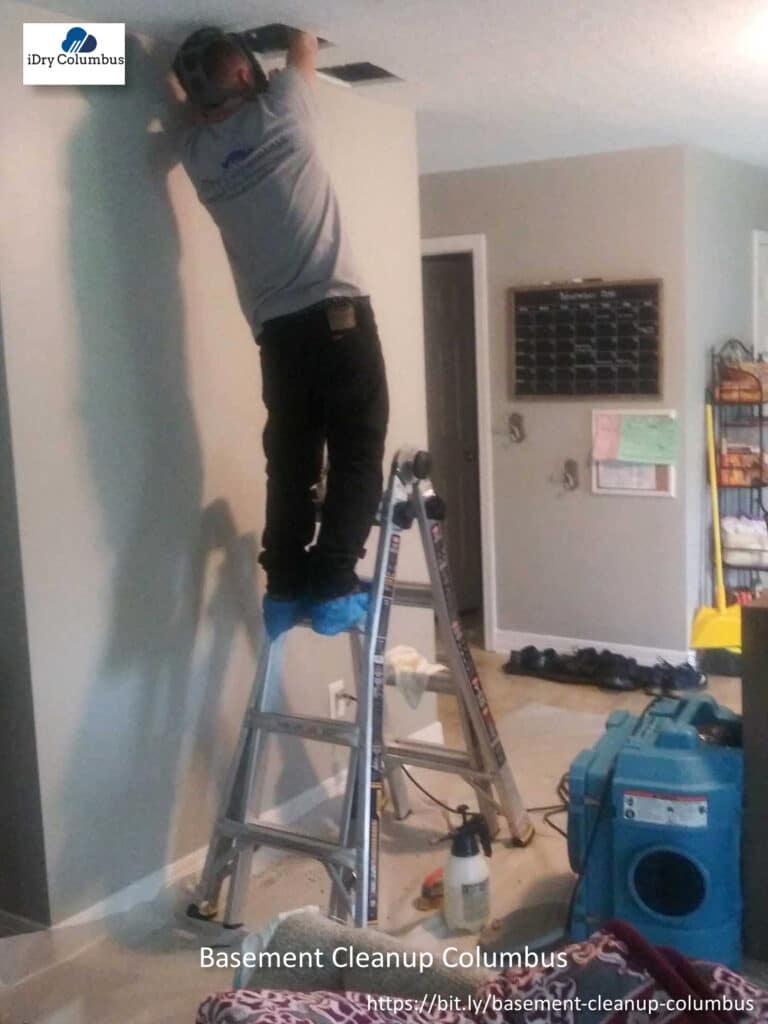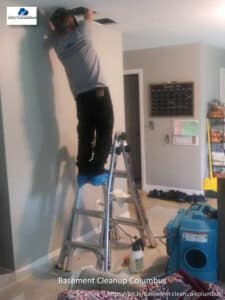 An ethical and responsible water damage repair contractor, like iDry Columbus, can provide an accurate scope of home water damage repair, addressing any questions or concerns regarding line items. We offer historical advice based on our experience and supply any necessary documentation for successfully resolving your claim.
If you find yourself unable to reach an agreement with your carrier, you have the right to seek counsel from a licensed public adjuster in Ohio. A public adjuster, legally licensed to handle claims in Ohio, can advocate for you in support of your insurance claim. Make sure to ask for credentials, experience, and referrals, and inquire about any potential concerns before signing any agreements.
Committed to Exceptional Service: Water Damage Repair Near You
At iDry Columbus, we prioritize our clients and their needs. We never invoice clients directly for any line item or charge that falls outside the typical scope of water damage repair. For example, we often choose to set up HEPA-filtered air filters to safeguard the indoor environment of your home or business. Although most insurance policies exclude these items due to their association with mold remediation, we have never charged clients for such services and never will.
At iDry Columbus, we strive to be the water damage repair company that redesigns the restoration industry in favor of our clients. We appreciate every opportunity to serve you and always perform in a manner that we would expect for our own family, home, or business.
Understanding that water damage repair needs don't always occur during regular business hours, we provide round-the-clock service throughout Columbus, Ohio, and surrounding communities. For over 20 years, iDry Columbus has been there when you need us the most, offering efficient and reliable water damage repair solutions.
Frequently Asked Questions
What is water damage repair?
Water damage repair is the process of restoring a property that has been damaged by water. This can include removing any standing water, drying out the property's structure, identifying and eliminating mold growth, and repairing any damage caused by the water.
How can I tell if my property has water damage?
Signs of water damage can include water stains, damp or musty odors, and warped or discolored flooring. If you suspect that your property has water damage, it's important to contact a professional as soon as possible to prevent further damage.
How long does the water damage repair process take?
The length of the water damage repair process can vary depending on the extent of the damage. In general, the process can take anywhere from a few days to a few weeks. A professional water damage repair company can provide a more accurate estimate based on your specific situation.
Will my insurance cover the cost of water damage repair?
Whether or not your insurance will cover the cost of water damage repair will depend on your policy. It's important to review your policy and contact your insurance company as soon as possible to determine what is covered.
Can I perform water damage repair myself?
It is not recommended to perform water damage repair yourself, as it can be a complex and dangerous process. A professional water damage repair company has the expertise and specialized equipment necessary to safely and efficiently repair your property.