Emergency Restoration Services
From start to finish, we handle all of your emergency restoration services.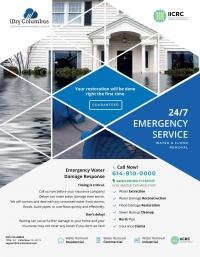 We pride ourselves on having a long history of satisfied customers. In addition to offering 24/7 emergency restoration services for water damage restoration, flood water cleanup & extraction, and mold remediation.
We use environmentally friendly protocols and cleaning methods to ensure your home or business is not only "as it was" prior to the loss but better than it was when we're were finished.
Offering 24 hour services for emergency property damage services – structural drying – plumbing supply line breaks – toilet & sink overflows – sump pump backups – sprinkler line breaks as well as any other sudden damage caused by water.
Emergency Restoration Services
24/7 Emergency Services
Onsite Same Day Estimates – Expert Response Teams Standing By – CALL 614-810-0000
Emergency Water Damage Restoration

Innovative Systems:

Industry Leading Software
Client Satisfaction Guarantee
On-Time Guarantee
24/7 Emergency Service

Emergency Flood Water
Cleanup & Removal

Highly Recommended By:

American Red Cross
Local Police & Narcotics
Local Fire Department Chiefs
Insurance Carriers

Emergency Mold Remediation

Common Sense Approach:

Xactimate Line Item Estimates
No Scare Tactics (Black Mold)
Highest Level of IICRC Certification Available

Emergency Crime Scene & Trauma Response

Our Family in Support of Yours:

State Licensed
Nationally Accepted Line Item
Estimates
Will Work with Your Insurance Company
Emergency Property Damage Services  – Water Damage Restoration – Mold Inspection & Testing – Mold Removal – Cleaning and Disinfection
It's water damage restoration done right. Taking great pride in every successful project.
Years of water and water damage restoration experience can only mean one thing. It's a passion for the industry.
It's care and compassion. Treating your home or business as if it were own families impacted by the damage.
Every member of iDry Columbus is part of a dedicated team, working to bring you home or put you back in business.
No instant franchise, no blind tricks.. it's more than 20 years experience in water damage restoration.
Master certified and proud of our experience. Ongoing education is a must in supporting our efforts to continually lead the field in emergency restoration services.
Seems forever and ongoing; training in our field is only as good as the last dehumidifier invented. Its continual and designed to benefit our client.
No water loss is to small or to large. From high rise developments to living rooms across Ohio. We have the tools, equipment, and support of the largest in the Nation.
Water Extraction

Flood waters must be carefully evaluated prior to extraction. If the water is deep enough, structural collapse could occur. Trust in our IICRC Certified staff and the countless hours performing water extraction throughout Columbus, Ohio to up to the task and ready when you need us.

Water Damage Clean Up

The structure, the building materials, contents and the indoor environment itself must be properly inspected prior to commencing flood damage restoration. As an IICRC Certified firm, only the latest standards are used to determine the proper cleanup and restoration.

Emergency Restoration Services

With an environmentally friendly conscious, we look to restore your properly as quickly and safely as possible for both you and your family. Properly assessing, planning, and performing flood damage restoration using environmentally friendly products will restore your property in the best manner possible. Emergency restoration services near me.
No Obligation – Free Property Damage Inspection- Emergency Restoration Services Near Me
Guaranteed Service Area
614-810-0000