Water Damage Restoration Services
From the onset of water damage, basement flooding, toilet overflow, or sudden water line break; we've developed iDry Columbus with one thing in mind and that was to bring high quality water damage restoration services to our clients in their time of need. With more than 20 years' experience in water damage restoration, the associates on our team bring a wealth of information and knowledge in water damage repair. From the prevention of mold growth, to writing line item detailed Xactimate estimates for mitigation and/or structural repairs, iDry Columbus can handle your every need.
Cloud based applications allow you to review the ongoing and in progress notes as they pertain to your water damage restoration or mold damage claim. Every touch of your file is documented, and journal notes as they relate to any moisture or damage found in your home or business are date/time stamped for your record keeping needs. Both pre and post loss images of your property are thoroughly detailed and uploaded with detailed descriptions; allowing you a real-time view as your project moves forward.
We are dedicated to raising the bar in water damage restoration. We are proud of every opportunity given to us in and look forward to working with you.
Primary Methods of Water Damage Restoration
A primary concern and step before any water extraction or restoration activities begin is to ensure that the source of the water has been identified, shut off and repaired or replaced. No one should start or perform any restoration services in your home or business unless the source of the water has been identified.
Pro-tip: With so many exclusions to an individual home or business owner's insurance policy, making the identification of the source of the water is vital to any potential property damage claim.
From truck mounted extraction units capable of removing more than 750 gallons of water a minute to submersible waste pumps and weighted extraction tools, getting the water of your home or business is one of the primary steps involved in performing building restoration.
Pro-tip: Keep extraction in mind, it is the single most important step every water damage restoration company must do.
Without proper water extraction, the water left in your home or business must be removed by evaporation. The more moisture left behind, the longer the remaining building materials will take to reach a safe and predetermined dry standard.
The Destructive Nature of Water
Water is one of the most destructive substances in an indoor environment. Flooding or excess moisture inside your home can lead to the destruction and deterioration of your home's infrastructure and furnishings.
Water inside your home becomes more of a problem when the water is unsanitary, such as a sewage backup. This can be dangerous not only to your home, but to your health and the health of your family as well.
If emergency water damage restoration services are not dispatched right away, ideally within 24-48 hours, serious damage can be done to your home. However, if caught quickly enough, professional water damage services have a high likelihood of repairing and restoring much of your home and your furnishings.
The destructive power of water is greatly diminished when swift and effective intervention is introduced. Although the damage to your home may look severe and unrepairable, you will be surprised to see the amazing results that prompt water cleanup and restoration can produce.
From flooring to furniture to precious art or collectables, iDry Columbus has been restoring and repairing water damaged homes and property for over 20 years.
Secondary Damages to Your Home or Business
If the water extraction wasn't performed properly, the possibility of secondary damages increases. These damages should be avoided at all cost, keep in mind that most major insurance carriers exclude coverage for mold growth and will not cover the cost of the mold removal from your personal property or the remaining building materials.
Quick tips to discovering that the initial water damage restoration services may need further attention:
Has the carpet padding been removed? If not, pull back a corner of the carpeting and squeeze test a corner of the padding. Is it dripping water? Continue extraction or remove the carpet padding.
Padding should only remain on a category 1 water loss, and only then when you and the restorer are comfortable documenting that there are no contaminants in the water that affected the carpet padding.
Top down drying, where the carpet and padding stays intact should never be attempted on any category of loss without the proper water extraction tools. Remember any moisture left behind can only be removed as fast as the rate of evaporation.
If you're in need of a high-quality restoration company, look no further and trust in the associates and team members of iDry Columbus – Water Damage Cleanup. Master Certified in Water Damage Restoration.
Does Insurance Cover Water Damage Restoration?
The answer to this question varies depending on your unique home or business owners policy.
In general, insurance will help to pay for the emergency cleanup, water removal and water damage restoration services as well as the repair expenses related to water damage if the damage was sudden and accidental.
This means, if you experience the unfortunate event of a pipe bursting and water drenching your ceiling, your insurance policy will most likely help you to pay for the related expenses.
Most insurance policies have two different types of coverages; dwelling coverage and personal property coverage.
Dwelling coverage will help to pay for damages to the structure of your home, like when a pipe bursts and your ceiling is compromised. Personal property coverage covers your personal belongings inside your home. So, if the burst pipe causes water to ruin your antique piano, personal property coverage would help with repair costs.
iDry approaches water damage very scientifically. In order to determine if your property will need to be replaced or if we are able to restore it, we evaluate the following:
-The amount of property damage present
-The degree to which contamination has occurred (what kind of water we are dealing with)
-The cost of restoration vs. the cost of replacement-what makes the most sense financially
Regardless of how the damage is treated, if not acted upon promptly you could be facing major financial and health burdens.
One of the major concerns when dealing with the damages caused by water is the onset of mold growth which can be extremely dangerous for your home and family.
Water Damage Repair Cost
The cost to the homeowner to repair any damages incurred by water will depend on many factors, most importantly, the extent of the damage to the home and whether the materials can be repaired or will need to be replaced.
If damages are extensive and emergency water damage restoration services were delayed in getting to your home, there is a higher likelihood that you will be paying a higher bill for the damages and that materials will need to be replaced.
Fortunately, our emergency response services are available 24 hours a day, with certified water damage technicians arriving at your home or business within 60 minutes.
Swift action in water situations helps to ensure that most of your home and belongings will be salvaged and restored to its full capacity.
Mold Growth in Water Damage Restoration
When it comes to mold, the key to prevention is to stop it before it starts. Mold grows rapidly on moist surfaces and it begins within hours, not days or weeks, so prompt action is a necessity.
In order to prevent mold spores from taking hold and flourishing in your home during the process of water damage restoration, you need a company that is experienced, with IICRC certification in the proper methods mold inspection, prevention and remediation. In possessing the IICRC Advanced Microbial Certification, we're confident in providing the very best in service to you and your home or business.
There are hundreds of different mold strains, not all of them are toxic. However, any kind of mold has the potential to cause negative reactions in humans and pets. Some people can be exposed to mold and never know it while others have severe allergic and respiratory reactions to contend with.
Anytime there is excess moisture in your home, mold will soon begin to grow and, if left untreated, will wreak havoc on your home and family.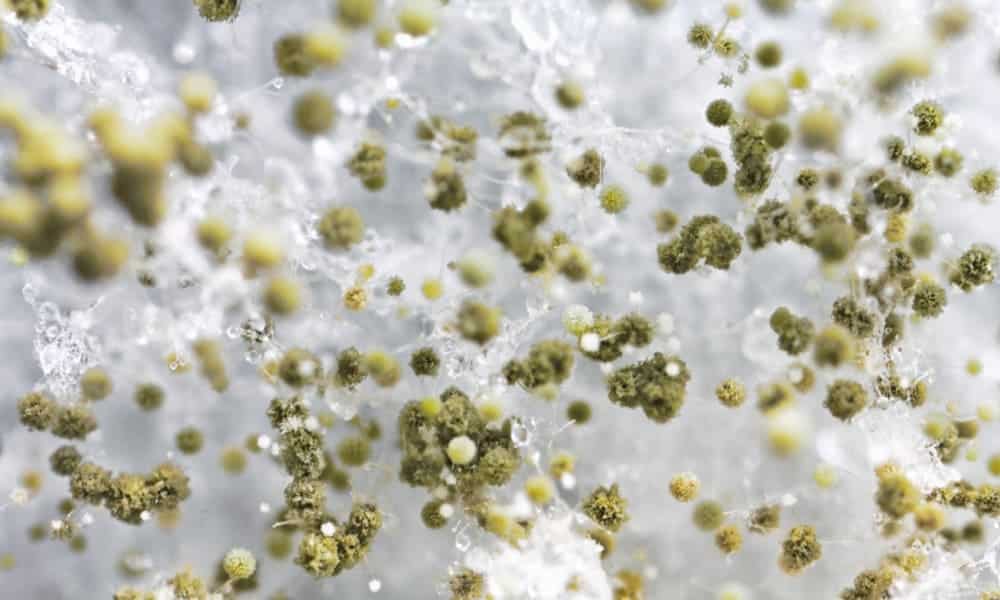 Mold Removal
If mold is allowed to start growing in your home, a mold removal expert is your safest bet to completely rid your home of dangerous mold spores.
When it comes to mold in your home, especially after serious water damage has occurred, enlisting the help of a professional is the safest and most effective way to ensure your home is mold free.
iDry uses professional grade mold remediation equipment and technology to identify and rid your home of all instances of mold. Mold left to its own devices will quickly grow and flourish in a damp environment and will soon begin to deteriorate the materials of your home.
If any damage or deterioration has begun, our teams will identify it and will help to repair. Our team of experts will assess the situation and determine the best course of action, whether that be to repair or replace the mold damaged materials.
Why Choose iDry?
With over 20 years of dedicated experience in the water damage and repair field, we have the most experienced team in Columbus. We are proudly a locally owned and operated company right here in Columbus.
Customer service is our number one priority and we go above and beyond for each and every customer to ensure complete satisfaction with our work.
Our 24-hour emergency line makes dealing with the stress and anxiety of a water damage repair a little less worrisome. You can rest assured knowing that when you call our emergency line, a friendly representative will greet you and walk you through the water damage process.
We price our services competitively and affordably. We understand that no one plans for a water disaster to strike their home and having the funds to properly remedy the situation is not always easy.
Our prices are affordable to everyone, no matter what their budget.
We serve all of Columbus and the surrounding areas. Not sure if we serve your area? Check out our guaranteed service areas on our website for a complete listing of coverage areas.
Renewed Standards in Restoration
With the understanding that our company alone may never change the entire restoration industry.
Many of our team members and associates have decades of experience in damage cleanup and each have made a pact that in the development of iDry Columbus, that a renewed standard would be created and used as the approach on every claim; even if that standard would only apply to the damage cleanup or property claims that we were involved in.
In making the decision to not enroll in or join "preferred vendor" relationships where the relationship becomes a carrier/vendor one instead of client/vendor due to rate discounts and the reliance on the possibility of future property damage claims; we've taken back the control and returned it to the client, where it should have always been.
Utilizing the latest in technology in drying equipment, low grain refrigerant dehumidifiers, low amp draw air movers and HEPA filtered air cleaning equipment, we continually deliver successful results in the restoration of building and property damage.
Its Restoration Redefined. Guaranteed.
Property damage inspections have been and will always be free of charge estimating and at no obligation to our client.
We've chosen to include the use of thermal imaging and highly sensitive moisture detection equipment on every inspection; allowing us to offer detailed and complete information, estimates, and/or proper drying recommendations by identifying areas of concern that may have been overlooked without the use of these tools.
If you find yourself in need of a damage cleanup company that's redesigning the restoration industry in our client's favor, we would appreciate any opportunity to be of service and will always perform in a manner that we would expect for our own family, home or business.
With service available around the clock and throughout Columbus, Ohio and surrounding communities, we recognize that the need for a damage repair company doesn't always occur during normal business hours, because of this, we haven't had normal business hours in more than 20 years.
Your Local Water Restoration Contractor
Master Certified and built from concept to performance. iDry Columbus – We are available 24 hours day in response to any emergency mold growth situation you find your home or business in.
Avoiding preferred relationships with insurance carriers and foregoing discounted rates and agreements in exchange for property damage claims allows us to service only our client. Every service we have the opportunity to provide is proudly backed and guaranteed for as long as you own your home or business.
Continually raising the bar in property damage restoration. Providing service for everything from damage cleanup, flooded basement, water extraction, sewage cleanup, building cleaning & disinfection and mold removal.
iDry Columbus – Emergency Damage Response – Guaranteed Service Area
Emergency flood water extraction, and mold removal services available around the clock and around the state.
We take great pride in the fact that our services are ranked and reviewed highly throughout Columbus and surrounding communities. We've built on our relationships with home and business owners, insurance carriers, adjusters, and agents throughout the state and across the Nation to ensure that your needs are met and every damage claim is prepared, serviced, and resolved quickly.
Large loss – Residential – Commercial – Industrial – Healthcare
Water Damage Cleanup & Restoration Services Available 24/7 Nationwide