Mold Inspection Services in Columbus, Ohio
As building methods in Columbus, Ohio continue to focus on energy savings by increasing insulation factors such as better roofing materials, insulation and windows the tradeoff is in the indoor air quality.
Remember growing up, the rate those suffering of allergies and asthma reactions indoors was much lower than today. The health effects of these building trends continue to climb as the air you breathe indoors becomes more and more restrictive.
As the leading water damage restoration company serving Columbus, the effects of mold on our environment, our clients, and their family or employees has always been a major focus in the services we offer. Having an extensive background in water damage cleanup has given us a unique ability that many of the local mold inspectors can't offer. Finding and fixing the source of the problem.
From leaking pipes, improperly vented exhaust fans, leaking roofs and foundation walls; moisture and excess humidity inside a your home or business will often lead to damaging mold. Drywall, flooring and other materials inside your home will often provide the perfect grounds for mold damage and you could have a mold problem in as little as 24 to 48 hours from the onset of a water leak.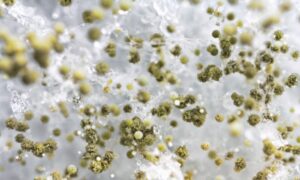 Is Mold in My Home?
Every home and business in the Columbus, Ohio area has some form of mold growing in it. Often, it's harmless and in fact, good for your environment. Some molds are important to sustaining life and many have been found to have excellent medical purposes. However, mold spores that have formed as the result of a water damage often have allergy causing effects that could be harmful to your health.
When inside your home, are you suffering from allergies? Itchy eyes? Running nose? Sneezing? Hard to Breathe? The air inside may have mold spores that are causing these problems with your health.
Have you experienced water damage? Discovered a leaking pipe? Do you smell a musty odor in your basement or crawlspace? Often these are indicators of a mold issue that could be growing inside your home or business.
From attics to air ducts, mold spores can surface and grow anywhere that the environment provides the right conditions. Quickly cleaning up water spills and running a dehumidifier in your basement or crawlspace will help to prevent most mold problems from starting.
How to Prevent Mold Damage in My Home?
Given the right conditions, mold spores and growth can start in as little as 24 to 48 hours. Forming quickly, it's important to keep moisture, excess humidity and condensation under control and cleaned up as soon as you discover it.
The CDC, Center for Disease Control and Prevention has makes the following suggestions in controlling mold growth and the potential for damages caused by mold in your home or business.
Quickly cleanup and properly dry any water damage or water leaks.
Repair leaking roofs, windows, and pipes as soon as discovered.
Make sure that bathroom exhaust units are properly ventilated to the outside.
Run a dehumidifier to control excess humidity in damp areas such as a basement or crawlspace.
Mold needs certain elements to grow and flourish such as a water or moisture source and a food source such as drywall, wood flooring, framing, insulation and can thrive on many of building products used in homes and businesses throughout Columbus, Ohio.
Who to Call for Mold Inspection?
Offering mold inspections in Columbus, Ohio for more than 20 years, IICRC Master Certified with advanced designations for mold inspection and mold removal, iDry Columbus takes the health and safety of your environment seriously and has performed thousands of successful projects over the years. From hospitals and senior living facilities to immune deficient in both residential and commercial properties, we understand the need for high quality responsible services in our industry and continually raise the bar in mold inspections.
In offering mold inspection services, our focus is your health and safety. Using the latest in technology to find and identify hidden water or moisture damage, we work to stop the source of the issue causing the mold growth and damaging your property.
Keep in mind that finding, identifying and correcting the source of the problem is the most important step in any mold inspection. Contractors that only identify the mold growth and offer remediation are doing so, knowing that the mold will come back and cause another problem for you.
Knowing who to call for mold inspection is only the first step in your effort to find a quality mold inspection company. Ask for their experience and IICRC certifications. Keep in mind that the City of Columbus does not require special licensing for mold inspection companies so be sure to check reviews and ask for references before making an appointment for a mold inspection in your home or business.
What is a Mold Inspection?
From the attic to the crawlspace, mold can form anywhere. Often found in dark, damp areas molds thrive on many of the building materials found in your home, overlooked until it's too late and damage has occurred.
Much like a home inspection in Columbus, Ohio, mold inspections are mainly visual inspections of an affected area or suspected areas within a home or business done prior to potential mold remediation. An inspection test could consist of sampling including both air and surface samples though not required, the main purpose of any mold inspection should be in identifying what is causing the mold issues.
Using the latest in tools and equipment from the water damage industry, we can find and identify areas of hidden water or moisture issues that often cannot be easily seen and may have been overlooked by other mold inspection companies.
In our effort to continually raise the bar in our mold inspection services, we are now including ATP Cleaning verification and testing during the course of any mold inspection. ATP testing is the global standard used in hospitals, health care and health departments in testing the cleanliness of a surface both before and after cleaning and mold remediation.
In the average residence, mold inspections typically average an hour or more, and if applicable, should always include thermal imaging, moisture documentation and a clear line item report for your review. With the ATP Cleaning verification system, the track and trend software allow you to know it's clean and verified!
Testing for Black Mold?
Mold inspection is a touchy business. It's been targeted by Columbus news outlets, and contractors looking to take advantage of others using the "black mold" scare tactics of the last 20 years are still in use today. From home inspection contractors to "mold removal" contractors, we've seen sales pitch after sales pitch regarding mold testing.
Many of these contractors will not tell you that if you can visibly see mold growth in your home or business; outside of special reasons, testing is not the recommended course of action. Save the money on testing for the mold removal and cleanup. Can you imagine leaving the mold there if testing reveals it's a "good mold"?
What Does a Mold Inspection Cost?
Our residential and commercial mold inspection rates are among the best in the industry for what we provide. To the adage of "you get what you pay for", we've worked to include every detail in assuring that we not only provide accurate details in your report, images and ATP cleaning verification but we also take every step in the identification of the source and cause of the mold damage.
At $249.00, our mold inspection rates include:
IICRC Master Certified / AMRT Certified Inspector
Convenient, around the clock residential and commercial appointments. No afterhours charges
Xactimate Estimating Software – Accepted and Approved by every major insurance carrier.
Thermal Imaging w/ Structural Overlay – Pin point accuracy in water damage.
Moisture Monitoring – Accurate to a 1/100th of a point in moisture content.
Same Day – Onsite Reporting
Guaranteed Service – *If for any reason you are not satisfied with our mold inspection services, we will promptly refund 100% of your inspection fees.
As a benefit to our clients, any mold inspection fees that are assessed are taken off any mold removal or mold remediation estimate provided.
Are Mold Inspections Covered by Insurance?
 Insurance policies usually do not cover mold that is the result of a condensation, flood damage, foundation leak, or high indoor humidity; additionally, most carriers will not provide coverage for any item considered a maintenance issue such as a known leaking pipe or window.
As a property owner in Columbus, the expectation by your insurance carrier is that you make timely water damage repairs as soon as an issue or problem is found.
While mold is not covered in under most policies, there may be coverage if the damage is the result of a covered loss such as a recent water damage. In these cases, the insurance carrier will assign a property adjuster to review the damage claim, our report and estimate and will issue payment up to the predefined policy limit for mold remediation services.
Every home and business owner's insurance policy are different, and the best advice would be from your agent or insurance carrier directly. A good rule of thumb would be to make an appointment once a year to review your insurance coverage with your agent. Items such as sump pumps and drain backup are not typically covered unless an additional endorsement is discussed and added to your insurance policy.
Renewed Standards in Restoration
With the understanding that our company alone may never change the entire restoration industry. Many of our team members and associates have decades of experience in water damage cleanup and each have made a pact that in the development of iDry Columbus, and in the services we offer to every client, that a renewed standard would be created and used as the approach on every claim.; even if that standard would only apply to the water damage cleanup or property claims that we were involved in.
In making the decision to not enroll in or join "preferred vendor" relationships where the relationship becomes a carrier/vendor one instead of client/vendor due to rate discounts and the reliance on the possibility of future property damage claims; we've taken back the control and returned it to the client, where it should have always been.
Utilizing the latest in technology in drying equipment, low grain refrigerant dehumidifiers, low amp draw air movers and HEPA filtered air cleaning equipment, we continually deliver successful results in the restoration of building and property damage.
Its Restoration Redefined. Guaranteed.
Property damage inspections have been and will always be free of charge and at no obligation to our client. We've chosen to include the use of thermal imaging and highly sensitive moisture detection equipment on every inspection; allowing us to offer detailed and complete information, estimates, and/or proper drying recommendations by identifying areas of concern that may have been overlooked without the use of these tools.
If you find yourself in need of a water damage cleanup company that's redesigning the restoration industry in our client's favor, we would appreciate any opportunity to be of service and will always perform in a manner that we would expect for our own family, home or business.
With service available around the clock and throughout Columbus, Ohio and surrounding communities, we recognize that the need for a water damage repair company doesn't always occur during normal business hours, because of this, we haven't had normal business hours in more than 20 years.
Water Damage?  Your Local Water Damage Restoration Contractor
Master Certified and built from concept to performance. iDry Columbus – Water Damage Cleanup is available 24 hours day in response to any emergency water damage situation you find your home or business in.
Avoiding preferred relationships with insurance carriers and foregoing discounted rates and agreements in exchange for property damage claims allows us to service only our client. Every service we have the opportunity to provide is proudly backed and guaranteed for as long as you own your home or business.
Continually raising the bar in property damage restoration. Providing service for everything from water damage cleanup, flooded basement, water extraction, sewage cleanup and mold removal.
Its Restoration Redefined. Guaranteed.
Sick Building Syndrome and Mold
The rise in indoor environmental health issues emerged due to new building codes in the 1970s that called for reduced energy and greater insulating factors when building built homes and businesses. As the structures became more air tight, it became more and more difficult for indoor air to exchange with outdoor air, and this increase the amount of overall indoor contaminants. Suddenly, "Sick Building Syndrome" became a thing and those with mold allergies suffered reactions every time they would enter.
How do you feel at home? Do you feel good? Can you breathe freely? No headaches?
Headache? Itchy eyes? Running Nose? No, it's not likely to be just a case of the Monday morning blues. They're one of the many symptoms that signal Sick Building Syndrome (SBS).
Heating, ventilation and air conditioning (HVAC) systems, contaminated HVAC supply lines, hidden leaks, untreated water damage, moldy ceiling panels and mold behind wallpaper etc. are all common causes.
Sick Building Syndrome is hard to diagnose sometimes. You may need to call qualified mold removal company such as ours. We hold the Advanced Microbial Certification (AMRT) from the Institute of Inspection Cleaning and Restoration Certification (IICRC) and have years of experience of remediation projects in hospitals, retirement facilities and residential properties. We'll provide the tools and implement the practices for a successful remediation. You can be sure of that.
Minor Mold Problems and Mold Removal
Most homes and businesses in Columbus, and in the wider of state of Ohio, will have a mold problem at some point or other. Most of the time the mold is harmless — if tackled soon enough.
Some good news. With a little education and precaution, you can solve minor mold problems yourself and not have to call a mold removal company.
Depending on the materials affected and the size of the area, you can find many publications that will guide you a successful cleaning process. Like anything you read on the internet, research it again.
You can visit the EPA or check out the  New York City Guidelines in mold remediation. Of course, we're also happy to help and arrange a no-obligation onsite inspection.
Stay Safe and Hire a Certified Mold Removal Company
For peace of mind, you should hire a certified mold removal and remediation company, such as ourselves.
The fact that the media have sensationalized black mold has triggered an entire industry in mold removal. Unfortunately, the ethics of this new industry are also questionable. The mantra is "Mold is Gold," and has led to some rather unscrupulous practices.
Today, anyone who owns a shop-vac and household chlorine bleach is advertising themselves as a qualified mold removal company. This practice is leaving desperate property owners with homes and businesses that are in worse condition than they were before.
Some owners have even abandoned their property altogether after an unsuccessful removal job. Even worse than this, they must disclose the attempted mold removal. They often have major trouble finding a buyer for the property unless they offer large discounts.
Pro-tip: If you suspect you have a mold problem of any kind in your home or business, you should contact an experienced mold removal company in the region (water damage restoration companies, such as ourselves, often provide this service). Insist on seeing certifications, past projects and positive online reviews from successful remediation projects.
Water damage and mold problems go hand in hand. If you don't address moisture-related issues, they'll lead to the discovery of microbial growth later. You can be certain of that.
Don't take the risk, call us on 614-810-0000. We're not like these unethical companies. We're professionals. We can also come out at short notice.
iDry Columbus – Emergency Water Damage Response – Guaranteed Service Area 
Emergency water damage, flood water extraction, and mold damage services available around the clock and around the state. Rest assured if you need an expert available at 2 am, contact us, your call will be answered and service will be on the way.
We take great pride in the fact that our services are ranked and reviewed highly throughout Columbus and surrounding communities. We've built on our relationships with home and business owners, insurance carriers, adjusters, and agents throughout the state and across the Nation to ensure that your needs are met and every damage claim is prepared, serviced, and resolved quickly.
#Powered by Urgency
Large loss – Residential – Commercial – Industrial – Healthcare
Water Damage Cleanup & Restoration Services Available 24/7 Nationwide
Mold Inspection Services Available in the Following Zip Codes for Columbus, Ohio
43002, 43004, 43016, 43017, 43026, 43035, 43054, 43065, 43068, 43081, 43082, 43085, 43109, 43110, 43119, 43123, 43125, 43137, 43147, 43201, 43202, 43203, 43204, 43205, 43206, 43207, 43209, 43210, 43211, 43212, 43213, 43214, 43215, 43217, 43219, 43220, 43221, 43222, 43223, 43224, 43227, 43228, 43229, 43230, 43231, 43232, 43235, 43240.
Services available in areas local to you:
Galloway, Ohio Mold Inspection
Grandview, Ohio Mold Inspection
Lewis Center, Ohio Mold Inspection
Westerville, Ohio Mold Inspection
Delaware, Ohio Mold Inspection