Flood Water Cleanup & Extraction 
Flood waters can be devastating. Those that have experienced flooding of any scale can tell you of the damaging effects to everything involved in the backup. Originating from many causes including rain water, torrential storms, sump pump backups, sewage backup, and foundation failures the result is normally the same and under some circumstances not covered by a normal home or business owner's insurance policy.
With experience up to and including work with FEMA, our knowledge of mitigating the damages caused by flood and flood waters is expansive and among the best in Columbus. The restoration steps involved in restoring the effects of this type of water damage is completely different than a broken supply line on the main level of your home or business therefore making the decision to choose the right water damage contractor all-the-more important.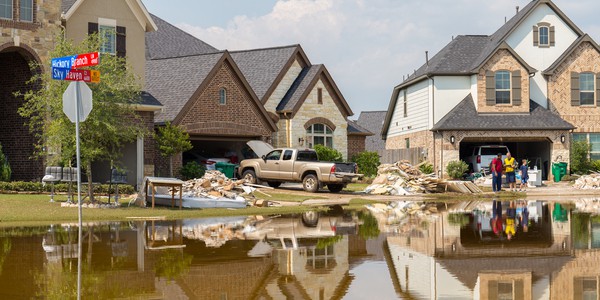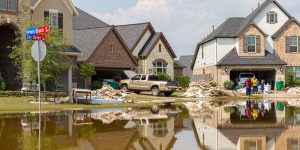 Flood Water & Your Property
Flood waters amassing over half the height of the room involve the expertise in dealing with hydrostatic pressure of the foundation walls. Improper and unbalanced water extraction could lead to foundation collapse, a horrifying result and it's just one of the ways that in mitigation flood water is much different and more complex than a local carpet cleaner, having no experience in flood damage could even begin to imagine.
Within minutes flood waters will begin to deteriorate your personal belongings; absorb into drywall, insulation, and cinder block that left unattended could lead lasting and damaging effects of the very foundation that your home or business was built upon. Keep in mind that potentially dangerous molds can form in as little as twenty-four to forty-eight hours after water has affected the materials. Professional, experienced help can be on location in as little as an hour.
Flood Water Cleanup - Doing it Yourself
Although we would never recommend it, at least without the background, experience and knowledge in handling the cleanup. We would like you to keep your health and safety or you and your family in mind while taking on the task or tips below.
When in doubt, we are always available to answer any questions and happy to schedule an assessment just for your safety. These suggestions assume that the standing water has been removed and the electrical circuits have been inspected prior to entering the area. For extensive information visit the website of the CDC – Centers for Disease Control and Prevention
Controlling the moisture inside your home or business is critical. Molds form in as little as twenty-four hours and special attention will need to be paid to structures where flood and sewage water have been left unattended for longer than forty-eight hours. Controlling the resulting moisture is the single most important step you can take to avoiding mold removal. Those with known asthma, allergies, or other breathing conditions should avoid taking on the task of cleanup and refer to a professional instead.
Please keep all children and pets safely out of the area. Be mindful of traffic areas where you may be moving about in attempt to discard water damaged materials. Any room that you may have traveled through while cleaning should be thoroughly cleaned prior to allowing your children or pets to return to that area.
When your certain of your safety, wear protective clothing before entering and/or cleaning up after water damage in your home or business. Include waterproof rubber boots, gloves and goggles. Much of this type of gear is made of a non-permeable material so keep in mind that while not allowing potential health
Flood Damage Restoration – Immediate Response
The IICRC recognizes flood waters to be in the same category of contamination as sewage waters, potentially carrying bacteria and disease. Both categories of loss are extremely dangerous to the health of you, your family or employees and any restoration company in response should be knowledgeable in preventing cross contamination, secondary structural damages and the proper disposal methods of any waste or flood waters extracted. Often, any personal property and contents must be recorded as non-salvageable, photographed and discarded.
As a personal policy, the associates and team members of iDry Columbus – Water Damage Cleanup will never clean or attempt to salvage any item belonging to a child or infant.
The quality of our performance on any project is extremely important to us though the health and safety of you and your family take precedence every time.
Flood Waters and Your Policy
Keep in mind that at no time should any restoration vendor or anyone outside or your insurance carrier, agent, or adjuster make policy decisions or statements as to coverage. Most insurance carriers and policies exclude flood waters and the ensuing property damage originating from outside of the foundation walls. Coverages are at times, difficult to decipher on paper for the average home or business owner, it's highly advisable to seek the opinion of your insurance agent as to coverage prior to filing a property damage claim. The mere filing of an insurance claim on your property; coverage provided or not may count against you.
Regardless of coverage, the flood damage restoration is highly advisable. The timeliness of response from you and the restoration company matter greatly as the building materials affected will continue to deteriorate with mold having the ability to form in as little as 24 to 48 hours from the start of any water entering your home or business.  While much of the building materials affected will be discarded due to contamination, the increasing humidity may contribute to secondary growth in other areas.
The team members and associates of iDry Columbus – Water Damage Cleanup have more than 50 years combined experience in successfully restoring homes and business that have been damaged by flood waters and in providing flood damage restoration, we understand the many factors that are involved in restoration. Our priority is the health and safety of you, our client and your family or employees. The second is your home or business. Our services are guaranteed, our team members and associates become as involved in the property loss as you are, and we treat every opportunity as if it were our own home or business.
Renewed Standards in Restoration
With the understanding that our company alone may never change the entire restoration industry.
Many of our team members and associates have decades of experience in damage cleanup and each have made a pact that in the development of iDry Columbus, that a renewed standard would be created and used as the approach on every claim; even if that standard would only apply to the damage cleanup or property claims that we were involved in.
In making the decision to not enroll in or join "preferred vendor" relationships where the relationship becomes a carrier/vendor one instead of client/vendor due to rate discounts and the reliance on the possibility of future property damage claims; we've taken back the control and returned it to the client, where it should have always been.
Utilizing the latest in technology in drying equipment, low grain refrigerant dehumidifiers, low amp draw air movers and HEPA filtered air cleaning equipment, we continually deliver successful results in the restoration of building and property damage.
Its Restoration Redefined. Guaranteed.
Property damage inspections have been and will always be free of charge estimating and at no obligation to our client.
We've chosen to include the use of thermal imaging and highly sensitive moisture detection equipment on every inspection; allowing us to offer detailed and complete information, estimates, and/or proper drying recommendations by identifying areas of concern that may have been overlooked without the use of these tools.
If you find yourself in need of a damage cleanup company that's redesigning the restoration industry in our client's favor, we would appreciate any opportunity to be of service and will always perform in a manner that we would expect for our own family, home or business.
With service available around the clock and throughout Columbus, Ohio and surrounding communities, we recognize that the need for a damage repair company doesn't always occur during normal business hours, because of this, we haven't had normal business hours in more than 20 years.
Your Local Water Restoration Contractor
Master Certified and built from concept to performance. iDry Columbus – We are available 24 hours day in response to any emergency mold growth situation you find your home or business in.
Avoiding preferred relationships with insurance carriers and foregoing discounted rates and agreements in exchange for property damage claims allows us to service only our client. Every service we have the opportunity to provide is proudly backed and guaranteed for as long as you own your home or business.
Continually raising the bar in property damage restoration. Providing service for everything from damage cleanup, flooded basement, water extraction, sewage cleanup, building cleaning & disinfection and mold removal. Now offering water damage repair services in Mt. Vernon Ohio
iDry Columbus – Emergency Damage Response – Guaranteed Service Area
Emergency flood water extraction, and mold removal services available around the clock and around the state.
We take great pride in the fact that our services are ranked and reviewed highly throughout Columbus and surrounding communities. We've built on our relationships with home and business owners, insurance carriers, adjusters, and agents throughout the state and across the Nation to ensure that your needs are met and every damage claim is prepared, serviced, and resolved quickly.
Large loss – Residential – Commercial – Industrial – Healthcare
Water Damage Cleanup & Restoration Services Available 24/7 Nationwide