Understanding Insurance & Documentation

for Water Damage & Mold
Navigating the aftermath of water damage or mold growth in your property can be overwhelming, especially when it comes to insurance claims. Proper documentation is crucial to ensure that you receive the coverage you're entitled to.
This guide aims to simplify the complexities of insurance processes related to water damage and mold. From the initial steps of documenting damage to successfully filing and following up on your claim, we'll provide you with comprehensive insights to make the journey smoother.
With iDry Columbus by your side, you can confidently tackle insurance challenges and ensure your property's swift restoration.
Have Questions or Need Assistance? Contact Us Today!
24/7 Emergency Response Services
IICRC Certified Technicians
Free Estimates – Xactimate™ Technology
Initial Steps: Thoroughly Documenting Damage Right After Discovery
In the wake of discovering water damage or mold, it's natural to feel overwhelmed. Yet, it's during these critical first moments that your actions can significantly impact the recovery process. Proper documentation serves as a foundation for insurance claims, guiding restoration professionals, and ensuring you're adequately compensated for losses.
Photographic Evidence: Photos offer a visual timestamp of the damage, making it harder for insurance companies to dispute claims. Use a camera or smartphone to capture clear, well-lit photos of the affected areas. Take multiple angles, ensuring you have both wide shots for context and close-ups to highlight specific damages. Remember to capture images of any damaged personal belongings too.
Video Footage: Videos provide a dynamic representation of the damage, capturing the flow of water or the spread of mold, which can be crucial in understanding the severity. Conduct a slow, steady walkthrough of the damaged area, narrating any observations. This not only captures the visual damage but also records your immediate reactions and concerns.
Written Records: A written account provides a chronological record, which can be invaluable when recalling events days or weeks later. Use a notebook or digital device to record the date, time, and a detailed description of what you observe. Note actions you've taken, such as turning off the main water valve or relocating items to a safe place.
Witness Accounts: Third-party accounts can corroborate your observations, especially if external factors contribute to the damage. If neighbors or passersby witnessed events leading to the damage, like storm damage or broken sewer pipe, ask them to provide a written statement. Their perspective might offer insights you hadn't considered.
By meticulously documenting every aspect of the damage, you arm yourself with a robust set of evidence. This not only streamlines the insurance claim process but also ensures that professionals, like those at iDry Columbus, have a clear picture of the situation, enabling them to offer the most effective solutions.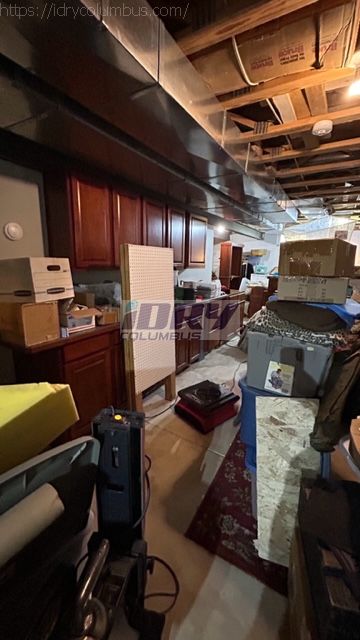 Understanding Your Insurance Policy: Coverage, Claims, and Clauses
Navigating the intricacies of an insurance policy can be daunting, especially when dealing with the stress of property damage. Yet, understanding your coverage is pivotal to ensuring you receive the compensation you deserve.
Here's a breakdown of key aspects to consider:
Types of Coverage: Not all insurance policies are created equal. Some might cover water damage but exclude mold remediation, while others might have specific stipulations about the cause of damage. Review your policy's declarations page, which provides a summary of your coverages and limits. Look for sections labeled "dwelling" (covers the structure of your home) and "personal property" (covers your belongings).
Deductibles: This is the amount you'll pay out of pocket before your insurance covers the rest. Knowing this amount helps you budget for repairs. Your deductible amount is typically listed on the declarations page. Remember, a higher deductible often means a lower premium, but more out-of-pocket costs after an incident.
Claim Deadlines: Insurance companies often have strict deadlines for filing claims after an incident. Missing this window can result in a denied claim. Check the "Duties After Loss" section of your policy, which outlines the steps and timelines you must follow.
Exclusions and Limitations: These are specific situations and/or damages that your policy doesn't cover. Being aware of these can prevent unexpected costs. Thoroughly read the "Exclusions" section of your policy. If there's something you don't understand, reach out to your insurance agent for clarification.
Additional Living Expenses (ALE): If your home becomes uninhabitable due to damage, ALE covers the costs of living elsewhere, like hotel bills or meals. Check if your policy includes ALE and note the daily and total limits.
Professional Assistance: Sometimes, the language of insurance policies can be complex. Having a professional interpret it can ensure you're fully aware of your rights and coverages. Consider consulting with an insurance adjuster or attorney, especially if you feel your claim isn't being handled fairly.
By familiarizing yourself with your insurance policy's specifics, you're better equipped to navigate the claims process. Remember, while insurance is there to assist in times of crisis, being proactive and informed ensures you maximize the benefits and protections your policy offers.
Filing Your Claim: Steps and Best Practices
Once you've documented the damage and understood your insurance policy, the next step is to formally file your claim. This process, while seemingly straightforward, can have its complexities.
Here's a step-by-step guide to ensure you navigate this phase with ease and confidence:
Immediate Notification: Promptly informing your insurance company about the damage can expedite the claims process. Call your insurance provider's claims hotline or contact your agent directly. Provide a brief overview of the situation and express your intention to file a claim.
Submission of Documentation: The evidence you've gathered will be the foundation of your claim. Submit photos, videos, written logs, professional assessments, and any other relevant documentation. Ensure they're organized and clearly labeled.
Adjuster's Visit: Insurance companies often send an adjuster to assess the damage firsthand. Be present during the visit. Walk the adjuster through the affected areas, pointing out key damages and sharing your documentation.
Claim Review: The insurance company will review your claim, cross-referencing it with your policy's coverage. Stay proactive. Regularly check in on the status of your claim and be ready to provide additional information if requested.
Settlement Offer: Once the review is complete, the insurance company will make an offer. Review the offer carefully. If it seems lower than expected or doesn't cover all damages, consider negotiating. This is where your detailed documentation can be invaluable.
Dispute Resolution: If there's a disagreement about the claim amount, you have options. Consider mediation or arbitration. If the dispute continues, you might need to consult with an attorney specializing in insurance claims.
Payment and Repairs: Once the claim is settled, you'll receive compensation. Use the funds to carry out necessary repairs. 
Post-Claim Review: Reflect on the claims process to prepare for potential future incidents. Consider if you need to adjust your coverage or take preventive measures to reduce the risk of future damage.
Filing an insurance claim can be a complex journey, but with the right knowledge and preparation, you can navigate it successfully.