Immediate Steps to Take

After Discovering Water Damage
Discovering water damage to your property can be an overwhelming and stressful experience. The sight of pooled water, damp walls, or damaged belongings can evoke a sense of panic and uncertainty. However, it's essential to remember that the initial actions you take can significantly influence the outcome.
By understanding and following the right procedures, you can mitigate further damage, safeguard the well-being of everyone in the property, and lay the groundwork for a thorough and effective restoration process.
iDry Columbus is dedicated to guiding you through these challenging moments, ensuring that you're equipped with the knowledge and support needed to navigate the aftermath of water damage confidently.
Need Help? Contact a Certified Representative Today.
24/7 Emergency Response Services
IICRC Certified Technicians
Free Estimates – Xactimate™ Technology
Identifying the Source of the Water Damage
Before diving into cleanup and recovery, it's paramount to pinpoint where the water is coming from. The source of the damage can vary from visible leaks, such as a burst pipe or a roof leak, to more covert issues like seepage or external flooding. Identifying the source not only helps in addressing the immediate problem but also in preventing future occurrences.
Here's how to accurately determine the origin of the water damage:
Visible Leaks: Burst pipes, dripping faucets, or malfunctioning appliances can be the primary culprits. Regularly inspect under sinks, behind toilets, and around appliances like washing machines and dishwashers. A sudden spike in your water bill can also hint at hidden leaks.
Roof & Ceiling:

Wet spots or discolorations on ceilings can indicate roof leaks. Periodically inspect your roof for damaged or missing shingles, especially after heavy storms. Ensure gutters and downspouts are clear of debris and direct water away from the foundation.

Foundation & Basement: Cracks in the foundation can allow water to seep in, especially during heavy rains. Basements are particularly prone to this. Installing sump pumps and ensuring proper landscaping can help redirect water away from your property.
Windows & Doors:

Aging seals, improper installation, or damage can allow water to seep through. Regularly inspect the seals and consider weatherproofing if you notice drafts or moisture.
Once the source is identified, it's crucial to address it promptly to halt further damage. If the origin isn't immediately apparent or if you're dealing with a complex issue, professionals equipped with specialized tools can help detect hidden moisture sources.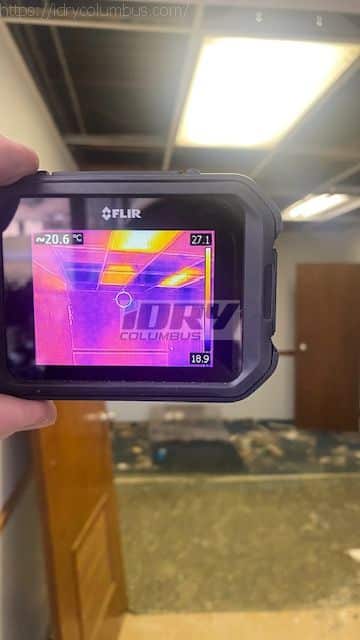 Prioritizing Safety: Electrical and Structural Concerns
Water damage introduces a myriad of safety concerns. Beyond the immediate visual damage, the unseen risks can be even more perilous.
Electrical Hazards: Water conducts electricity, making any water-damaged area with electrical outlets or devices a potential hazard. Before addressing the damage:

Turn off the electricity at the main breaker if water has reached the outlets or the fuse box.
Avoid using electrical appliances in wet areas.
If you're unsure about safety, consult with an electrician before working on or restoring power.

Gas Leaks: Water can impact gas lines or appliances, leading to leaks. Signs include a rotten egg smell or a hissing sound. If suspected:

Turn off the main gas valve.
Open windows for ventilation.
Evacuate and call your gas provider.

Structural Stability: Water can compromise the structural elements of a property. Before entering affected areas:

Look for external signs like cracks or bulges in walls.
Inside, sagging ceilings or warped floors are warning signs.
If structural damage is suspected, consult with a professional before proceeding.

Contaminated Water: Different water sources carry varying contamination levels:

Clean water from rain or leaking pipes.
Grey water from appliances, which may contain contaminants.
Black water from sewage or flooding is hazardous.
Always wear protective gear, like gloves and masks, when dealing with potentially contaminated water.
Safety is paramount. While the urgency to address water damage is understandable, never compromise on safety. When in doubt, always lean on the side of caution and seek expert advice.
Understanding the Types of Water Damage: Categories and Classes
Water damage isn't a one-size-fits-all problem. The source of the water and its potential contaminants, as well as the extent of the damage, can vary widely. Understanding these distinctions is crucial for effective treatment and restoration.
Categories of Water Damage:
Category 1 (Clean Water): Originates from a sanitary source, like a broken water supply line or leaking faucet. While not immediately harmful, if left untreated, it can progress to the next categories.
Category 2 (Grey Water): Contains significant contamination and can cause discomfort or illness if ingested. Sources include dishwasher overflows, washing machine overflows, and toilet overflows with urine (no feces).
Category 3 (Black Water): Highly contaminated and can cause severe illness or death if ingested. Sources include sewer backups, flooding from rivers or streams, toilet overflow with feces, and stagnant water that has become a breeding ground for bacteria.
Classes of Water Damage:
Class 1: The least amount of water, absorption, and evaporation. It affects only a portion of a room with little or no wet carpet or cushion.
Class 2: Involves a large amount of water, absorption, and evaporation. It affects an entire room, with carpeting and walls absorbing water.
Class 3: The greatest amount of water, absorption, and evaporation. Water may have come from overhead, soaking walls, ceilings, insulation, carpet, and sub-floors.
Class 4: Special drying situations where materials with low porosity (like hardwood, plaster, brick) are saturated and require special equipment and techniques.
Recognizing the category and class of water damage is essential for determining the necessary steps for restoration. While Category 1 damage might be manageable with DIY methods, Category 3 or Class 3 and 4 damages typically require professional intervention due to the complexities and health risks involved.