Financing and Payment Plans

for Water Damage Services
Experiencing water damage is stressful enough without the added burden of financial strain. At iDry Columbus, we recognize the importance of accessible and flexible payment options for our clients.
This guide delves into the various financing and payment plans available for water damage services, aiming to provide clarity and ease during an already challenging time. Whether you're seeking short-term solutions or extended payment plans, understanding your options can significantly alleviate financial concerns, allowing you to focus on restoring your property to its former glory.
Have Questions or Need Assistance? Contact Us Today!
The Importance of Flexible Financing in Water Damage Restoration
Water damage is often unexpected, catching property owners off guard both emotionally and financially. The immediate need for restoration can lead to pressing financial decisions, especially when insurance doesn't cover the full extent of the damage or when deductibles are high. Flexible financing options play a pivotal role in such scenarios:
Immediate Action: Water damage can exacerbate if not addressed promptly. Financing ensures that property owners can initiate restoration immediately, preventing further damage and associated costs.
Budget Management: With the availability of structured payment plans, homeowners can manage their finances more effectively, spreading the cost over a period rather than facing a hefty upfront payment.
Enhanced Choices: Financing options allow property owners to choose comprehensive restoration services without compromising quality due to budget constraints. This ensures the property is restored to the highest standards, preserving its value.
Peace of Mind: Knowing that there are accessible payment options can significantly reduce the stress associated with water damage incidents. Property owners can focus on the restoration process without the looming worry of immediate financial strain.
Credit Preservation: Opting for specialized financing plans tailored for restoration services can often be more favorable than using personal credit cards or loans, helping maintain a healthy credit score.
Understanding the nuances of financing and its significance in the realm of water damage restoration empowers property owners to make informed decisions, ensuring both their property and finances are well-protected.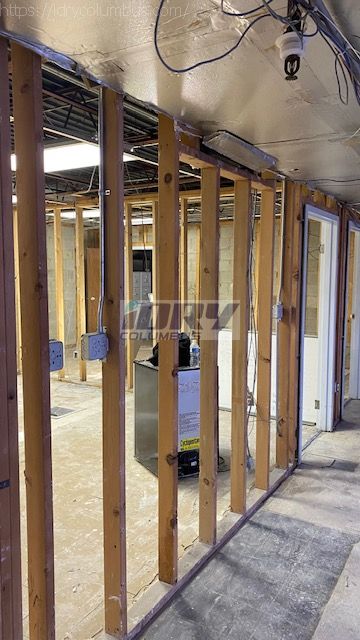 Evaluating Different Financing Options for Water Damage Services
Navigating the financial aspect of water damage restoration can be daunting, especially with various financing options available. Each option comes with its own set of advantages, terms, and considerations. Let's delve into the most common financing avenues, helping you determine the best fit for your unique situation:
Personal Loans: These are unsecured loans that don't require collateral. They can be obtained from banks, credit unions, or online lenders. While they offer quick access to funds, it's essential to consider the interest rates, loan tenure, and any associated fees.
Home Equity Loans: Leveraging the equity built up in your home, these loans can provide substantial funds for major restoration projects. They typically come with lower interest rates than personal loans but do involve your home as collateral, making timely repayment crucial.
Credit Cards: For smaller restoration tasks, credit cards can be a viable option. Some cards offer promotional zero-interest periods, which can be beneficial if the balance is paid off within that timeframe. However, high interest rates post-promotion and potential impacts on credit utilization ratios should be considered.
In-house Financing: Some restoration companies offer direct financing options or payment plans. These can be tailored to the services provided and might come with competitive interest rates or discounts. Always review the terms and ensure transparency.
Government Loans: In certain regions affected by natural disasters, government-backed loans or grants might be available to assist homeowners with restoration costs. These often come with favorable terms but might have specific eligibility criteria.
Crowdfunding: In extreme cases, especially when community support is strong, platforms like GoFundMe can be used to raise funds for restoration. While not a traditional financing method, it can provide relief in dire situations.
When evaluating these options, it's essential to consider the total cost over time, monthly payment affordability, and any potential impacts on your long-term financial health. Engaging with a financial advisor or counselor can provide personalized insights, ensuring you choose a financing route that aligns with both your immediate needs and future financial goals.
Thoughts on Financing Water Damage Services
Navigating the aftermath of water damage is undoubtedly challenging, both emotionally and financially. However, understanding the various financing options and payment plans available can significantly alleviate the monetary stress associated with restoration. By being informed, homeowners can make decisions that best suit their financial situation, ensuring their property is restored without breaking the bank.
It's essential to remember that while immediate restoration is crucial, it's equally important to ensure that the financial commitments are manageable. Collaborating with a restoration company that offers transparent pricing, flexible payment options, and understands the intricacies of insurance claims can make a world of difference.
At iDry Columbus, we're committed to not only providing top-notch restoration services but also ensuring our clients are well-informed about their financial options. We believe in a holistic approach, where the restoration of your property and peace of mind go hand in hand. Always prioritize open communication with your service provider, ask questions, and choose a plan that aligns with your financial comfort.
In the end, while water damage is an unwelcome event, with the right knowledge and support, you can navigate the restoration journey with confidence, ensuring your home returns to its former glory without undue financial strain.
[Link to Sub-page]: Return to Our Cost and Insurance Guide →
[Link to Sub-page]: Next: Maximizing Your Insurance Claim: Tips & Tricks →